Your
Big Picture

in Real Time
All your mixed fleet data connected, collected, and presented to you on one platform in real time. Trackunit Manager is the fleet management solution purpose-built for construction.
Solving Daily Pains – Ultimately to
Eliminate Downtime
Machine breakdowns, forgotten service checks, missing assets, fleet management processes scattered and unsynchronized across several platforms. Fleet management presents a multitude of pain points on a daily basis, most of them resulting from a lack of insight:
Where are my machines?
How are my machines being used?
Are my machines healthy?
Acting on the Big Picture
Elevate customer experience, enhance customer service, and increase revenue.
Monitor machines at all times and prevent unauthorized access.
Receive intelligent notifications about location, maintenance and damages.
Remotely diagnose machines by proactively using live machine data.
Pinpoint and address irregularities in the fleet-wide performance.
Locate Your Assets At Any Time
Never search for equipment again. Know exactly where your machines and assets are.
Protect Your Assets From Theft
Track the movement of your assets and get notified if they move out of a designated area to keep your fleet safe.
Intelligent Notifications
Know What Your Assets Are Doing
Get in-depth insight and status on every single asset in your fleet.
Understand the make up and utilization of your fleet to make data-driven decisions about its size.
Want to Map and Track Every Movement of Your Mixed Fleet?
Fill out the form to be contacted directly and get a hands-on demo of the product.
You will receive a confirmation email soon with your booking details.
Get a comprehensive overview of a machine's faults to better understand its condition – past and present.
Identify out of contract utilization with the Exceptions report to ensure proper use of your machines.
Operations Report/Daily Usage
Map your machine's daily usage and activity in the Operations report and evaluate how efficiently machines are being used.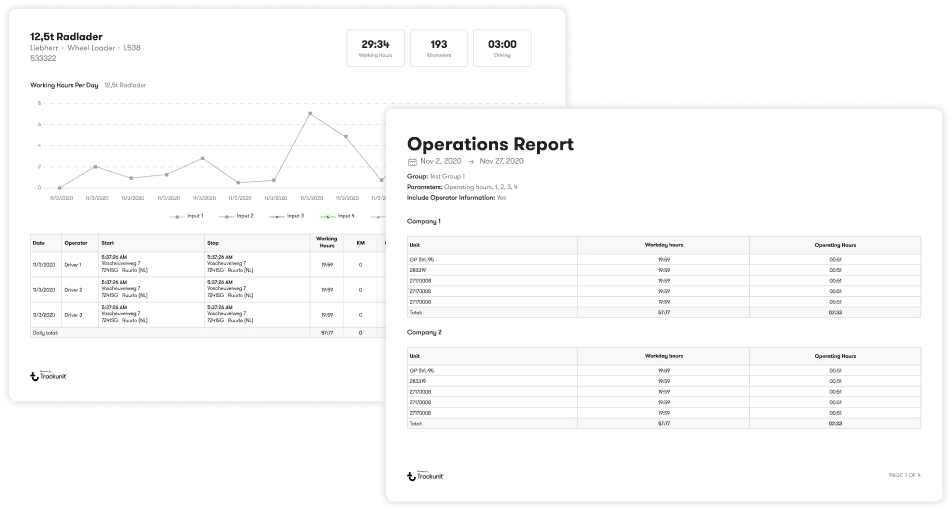 "Strong collaboration with Trackunit allowed us to develop the client dashboard that gives our customers insight into the machines they have on hire. A feature that more and more customers are asking for."
Join the
Best in Business
Join more than 5000 companies using Trackunit to keep their fleets in sight – even off site.